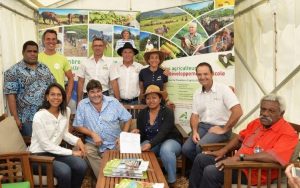 The Fiji Crop and Livestock Council further strengthened its ties with their regional counterparts at a recent meeting held in New Caledonia. In attendance were the Presidents of the Agriculture Chambers of Wallis and Futuna, French Polynesia, Vanuatu, New Caledonia and the Pacific Island Farmers Organisation Network (PIFON). The President of the French Chamber (Claude Cochonneau) also attended as an observer.
"Previously providing guidance on several issues regarding the structure of FCLC, the relationship with the Chamber in Noumea has also resulted in a significant financial contribution to the re-establishment of agriculture in Fiji, post Cyclone Winston," Mr Cole said.
"The meeting discussed similarities of agriculture and related issues in the Pacific Island nations. This included cash cropping, incorporating traditional knowledge in farming systems, as well as the challenges of thin markets and a general lack of information."
He said that opportunities for regional cooperation were raised. These included technology exchange, trade and the promotion of exchange visits particularly to encourage young entrants to the industry. As a regional grouping, there will be better opportunities to approach donor agencies.
Mr Cole said the meeting took time to discuss issues that impact farming across the region.
"There was concern that improved vanilla varieties in French Polynesia and Yaqona in Fiji and Vanuatu were at risk of being lost to the Pacific Islands, and that there is a need to protect local planting material," he said.
There is also a need to design a protein rich feed concentrate to supplement local feeds and improve the performance of livestock systems throughout the islands.
"There was considerable discussion on the opportunity to include other Pacific Island agricultural councils, including Samoa, the Solomon Islands, Nauru and the Marshall Islands. It was agreed that some fledgling associations will need considerable support and advice to enable them to grow."
"The associations are currently held together by a loose agreement. The meeting agreed to strengthen the relationship and establish guidelines. Given its extensive funding and long history, the Chambre d' Agriculture de Nouvelle-Caledonie would coordinate communications within the network."