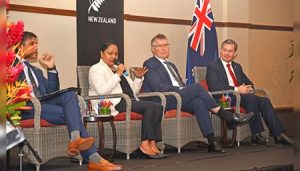 "Our nations are bound by our strong economic relations and our people-to-people ties. Going forward we can strengthen that relationship to match the friendship that has always existed between our people, private sectors and our two nations."
This was highlighted by the Minister for Industry, Trade and Tourism, Local Government, Housing and Community Development Hon. Premila Kumar while meeting with New Zealand's Minister for Trade and Export Growth Hon. David Parker at a Breakfast event held at the Grand Pacific Hotel in Suva today.
Minister Kumar said Fiji is honoured that New Zealand does strongly support Fiji and Pacific Island Countries in addressing challenges, that we face – in particular the challenge of Climate Change which the two Prime Ministers have strongly advocated in regional and international fora.
"Fiji's bilateral engagement with New Zealand continues to be enhanced in terms of two-way trade, tourism and investment. The Fijian economy is expanding to a record tenth consecutive year of economic growth. And I have no doubt we will maintain this upward trajectory in the years to come."
"I am extremely proud to note that total two-way trade between Fiji and New Zealand in 2018 amounted to over $975.3 million. New Zealand has been one of Fiji's top 10 export destinations, with merchandise exports to New Zealand valued at $110 million on average, over the past 5 years."
Minister Kumar adds New Zealand has been one of Fiji's top 5 import or supplier markets over the years. In 2018, imports from New Zealand, was valued at $832.7 million.
"But now you can see the balance of trade is in New Zealand's favour and we would like to increase our exports significantly."
Minister Kumar also highlighted new developments of setting up businesses in Fiji like the recent launch of bizFiji platform and private public partnership in the health sector.