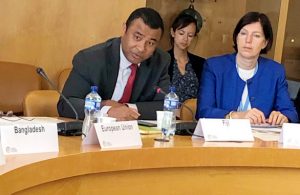 Fiji's recognition at the United Nations as the first Pacific Island country that is represented at the United Nations Human Rights Council and its vice presidency at the UNHRC, has been elevated to a new leadership role that Fiji has resumed last week.
This  follows Fiji's appointment as the vice president of the Platform for Disaster Displacement (PDD) at the UN after the recent meeting of the Steering Group Meeting held in Geneva, Switzerland.
Fiji was nominated to this position by France.
Fiji's new leadership role on Platform for Disaster Displacement (PDD) will be coordinated by Fiji's Permanent Representative to the United Nations in Geneva, Ambassador Nazhat Shameem and the team at the Fiji Mission in Geneva.
The First Secretary for the Fiji Mission in Geneva, Vueti May while speaking  on behalf of the Fiji mission thanked the President of PDD who is the Permanent Representative of France, Ambassador Francois Rivasseau, for the trust and confidence that has been placed in Fiji for its new leadership role on PDD.
"Fiji is honored to be appointed as the vice president of the Platform for Disaster Displacement at UN. We acknowledge France for giving us this opportunity to serve the Platform and we look forward to supporting France in its new role as the President of the Platform and we plead to all PDD Steering Group members and partners for continued support to ensure that we deliver on the mandates before us."
First Secretary, May added that the work of the PDD is central to Fiji's strategic development priorities and its commitment to enhance response to climate change and disaster.
Fiji also congratulated Bangladesh and Germany for their leadership of the PDD since its inception in July 2016 and also acknowledged the effort of the PDD Secretariat for the enormous efforts, which led to the adoption of the PDD Strategy for 2019 to 2022. Fiji also acknowledged the Steering Group Members and partners for the cooperation including the support of those States that have pledged for additional financial commitment.
PDD is a state-led initiative, which was endorsed by 109 States in October 2015 and it seeks to implement the recommendations of the Nansen Initiative Protection Agenda, which supports States and other stakeholders to implement the recommendations for the greater protection of cross boarder displaced persons in the context of disasters and climate change.