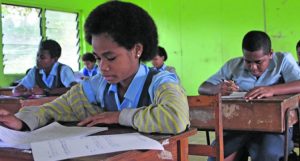 The Minister for Education, Heritage and Arts, Hon. Rosy Akbar has sent her well wishes to all the students who will be writing the Literacy and Numeracy Assessment (LANA) this week.
The diagnostic assessment begins today with 18,276 Year 5 and 17,903 Year 7 candidates. There are 723 centers within the country in which this assessment is instituted.
"This assessment is a diagnostic tool that assists teachers to ascertain the level and type of interventions to assist learners to improve literacy and numeracy. I am urging all Year 5 and Year 7 students to maximize this opportunity and ensure they prepare well," said the Hon. Minister.
The Ministry will dispatch the e-version of the LANA papers to 360 schools while maritime and hard to reach locations have been dispatched with the hard copy version.
The reports on individual student results can be accessed after the formal release of exam results through FEMIS (Fiji Education Management Information System) http://www.femis.gov.fj/femis/.