The Minister for Industry, Trade and Tourism, Honorable Premila Kumar, yesterday endorsed the China – Pacific Programme of Actions on Economic and Development Cooperation at the 3rd China-Pacific Island Countries Economic Development and Cooperation Forum in Apia, Samoa.
The Programme of Actions on Economic and Development Cooperation was signed by 10 Pacific Island Leaders in the interest of deepening relations with the government of the People's Republic of China. In his opening remarks, the Vice Premier of the State Council of the People's Republic of China, H. E.  Hu Chunhua, articulated China's willingness to support and share development experience with Pacific Island Countries (PICs).
"China targets to promote communications to foster goodwill and good faith as foundation for cooperation in our shared future. This should shape engagement in trade and exchanges in key sectors between our countries particularly in realizing the outcomes of development interests in the PICs," he said.
Hon. Kumar delivered Fiji's address on behalf of the Prime Minister Honourable Voreqe Bainimarama during the opening session and thanked the Government of the People's Republic of China for their continuing support to the development interest of Fiji and Pacific Island Countries.
"Cooperation in strategic sectors such as agriculture, infrastructure, information and trade will ensure mutual sharing of best practices between our two countries. And having to endorse this agreement alongside other Pacific Island Countries paves the way for enhanced regionalism under our common shared values and interests," said the Minister.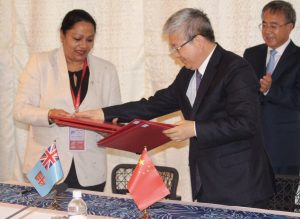 Honorable Kumar also signed the Agreement on Economic and Technical Cooperation worth RMB 50 million in gratuitous aid from the People's Republic of China for the implementation of rural infrastructure projects in Fiji. Other MOUs signed includes:
Cooperation in Infrastructure between the Ministry of Commerce (China) and Ministry of Infrastructure (Fiji);
Provision of Goods under South- South Cooperation for addressing Climate Change between Ministry of Ecology and Environment (China) and Ministry of Infrastructure (Fiji);
Strengthening Investment and Production Capacity Cooperation between Ministry of Commerce (China) and Ministry of Industry, Trade and Tourism; and
2020-2022 Action Plan on Agriculture Cooperation (China- Pacific).
In a bilateral meeting with Vice Premier Hu Chunhua, Hon. Kumar reiterated Fiji's commitment to the One China Policy and further highlighted Fiji's interest in developing capacity through "people to people exchanges including the scaling up of provision for educational opportunities for Fiji's workforce."
In Trade, the Minister stated that Fiji is ready to deepen engagement with China. "Fiji wants to be in the best position to facilitate the anticipated growing inflow of Chinese tourist to Fiji in ensuring that tourist service providers are China ready.
Honourable Kumar also thanked the People's Republic of China for the development cooperation programmes initiated under 'sister city – initiatives' between Guangzhou City and Suva City and Jiangmen with Lautoka City Council.  She expressed the importance of training Municipal Council staff to better prepare their cities and towns to attract investors and tourists. China expressed its willingness to assist municipal cities in Fiji in capacity building including training programmes based on Fiji's needs.
Fiji's delegation to the Forum also included government representatives from the Office of the Prime Minister, Ministry of Foreign Affairs, Ministry of Agriculture, Ministry of Infrastructure and Transport, and Ministry of Trade, Industry and Tourism to the two-day meeting.