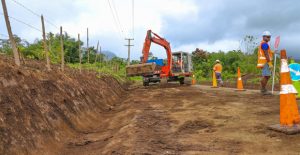 The Fiji Roads Authority says part of its key focus for the 2019/2020 financial year is public safety and increasing accessibility in rural areas.
CEO Jonathan Moore says they have made their submission for the 2019/2020 National Budget.
He says they have specific projects they want to work on which includes improving footpaths and street lighting as well as creating new roads for villages.
Moore says the big scale projects are already underway and they will continue next year.
In the 2018/2019 National Budget, the Fiji Roads Authority got a $563.1 million.
$29.6 million was for operating costs and $533.4 million was for capital expenditures.
The 2019/2020 National Budget address by the Minister for Economy Aiyaz Sayed-Khaiyum is at 7.30pm this Friday.