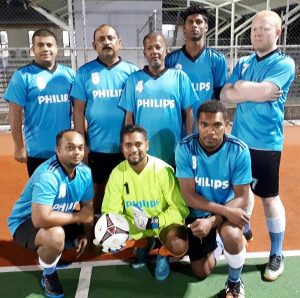 CARPENTERS Fiji Limited is leading the Suva Business House Futsal Competition with 12 points following the successful completion of round four at the National Hockey Centre in Laucala Bay on Tuesday night.
Captain Mustak Khan said the early lead is a good indication and they expect to keep the trend intact for future games.
"The boys are very motivated and we want to keep it this way as we approach the fifth round next week," Mr Khan said.
"Being one of the last futsal events of the year, it is a good platform for players, officials and fans to come and enjoy the games and share good social networking as well."
Tournament organiser Alan Kumar of Bula Events Group said the games have started to gain momentum as they approach the final pool matches which will be played on Tuesday next week at the same venue.
"We will go into elimination rounds after round five and four teams out of the 20 participating will be out of contention when we enter into the sixth week," Mr Kumar added.
The tournament is sponsored by Philips Lighting in association with Intergroup Construction & Electrical Services and Southern Forest. It will carry on for the next five weeks.
Round Four Results: Court 3- VODAFONE 11-W&G 0; WAF 2-PCL 6; CARPENTERS 3-BRED BANK 1; ASHABHAI 0-KPMG 2; INTERGROUP 1-HOME & LIVING 3; SCC 0-BSP 7. Court 4- EFL 0-POLY PRODUCTS 0; MOE 3-KONTIKI 2.